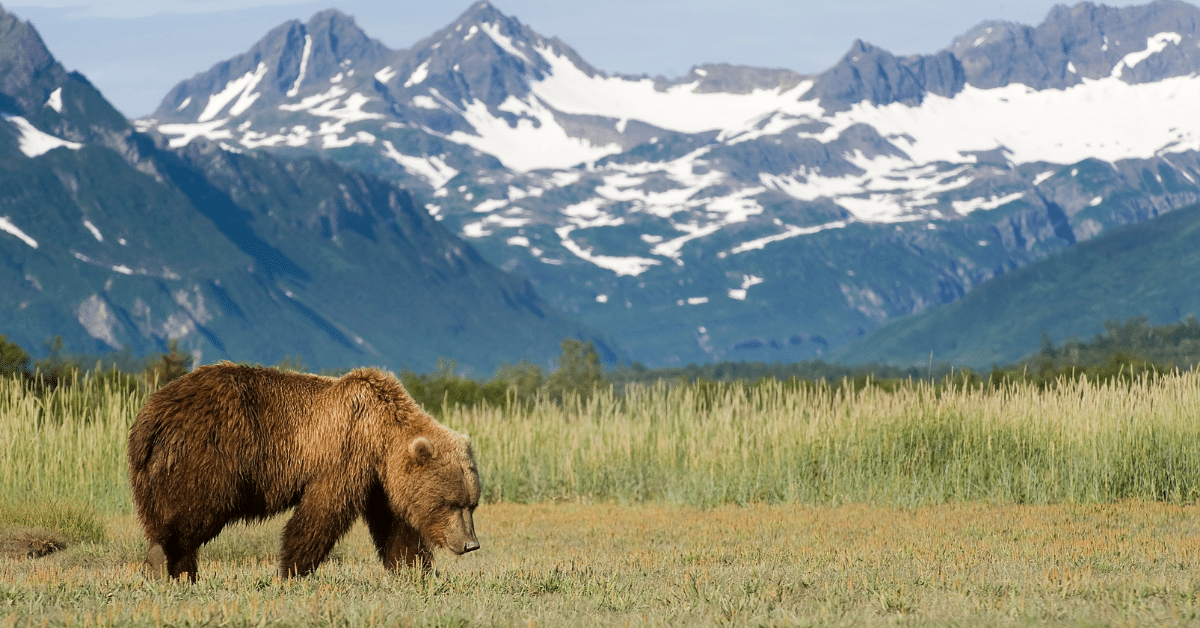 Your Guide to Animals in Glacier National Park
What Kinds Of Animals Are In Glacier National Park?
Mountain Goats, Bears and Wolverines….OH MY! We definitely are not in Kansas- once you step into Glacier or anywhere in the Flathead Valley you are in BEAR COUNTRY!!! Before you go, learn about a few essentials when it comes to wildlife viewing:
Types of Wildlife in Glacier National Park
Best Places to See Wildlife
Wildlife Viewing Safety Practices
This Big Sky state is home to lots of wildlife. What animals in Glacier National Park are you looking forward to seeing?
---
Types of Wildlife in Glacier National Park
Bears
Glacier is home to black bears, brown bears and grizzly bears. They are out exploring just as much as we are but sometimes you run into them when you least expect it. Please make sure you are bear aware and have bear spray on you so you can use it if needed.
Did you know before hibernation, bears eat as much as they can? They consume up to 20,000 calories per day and can pack on as many as 30 pounds per week before taking a big ol snooze for the winter?!
Marmots
One thing you can almost guarantee yourself to see in Glacier are marmots. These large ground squirrel looking mammals are mainly vegetarian and can weigh up to 15 lbs! Like bears they also hibernate in the winter so they are busy foraging all summer to stock up as much food as they can to survive the winter months burrowed down in their hole. Although they have been known to emerge on a mild winter day. 
During hibernation a marmot's heartbeat slows to 3-4 beats per minute compared to an average range of 110-200 beats per minute when they are active!!
Mountain Goats
Mountain Goats are also commonly seen in Glacier. These impressive animals can be seen up high scaling high and sheer cliffs. The do also like to hang around the Goat Lick Overlook to enjoy the mineral-laden cliffs.
Did you know Mountain Goats wool coats help them to withstand winter temperatures as low as −51 °F and winds of up to 99 MPH!!!
Wolverine
IF you are super lucky you will see a wolverine. These rare yet not endangered creatures also live within Glacier. They are the largest member of the weasel family but they almost look like a small bear and have also been called a "skunk bear". The best possible spot to see one of these guys is probably going to be along the Highline trail due to the great sub-alpine habitat. They do not hibernate and are said to be nature's underdog. They typically weigh about 30 lbs and there is a report of a single wolverine taking down a full- grown moose. Glacier's Shiras Moose typically weigh between 600-1600 pounds!!!
Fun Wolverine Fact: Their keen sense of smell can detect a dead animal 20 feet under the snow!!!
Who knows what else you may encounter while you are out on the trails, having a snack at Lake McDonald, enjoying a trip on the Red Bus Tours or even from the comfort of your car. Elk, Moose, Deer, Beavers, Eagles the list is endless. Have your eyes peeled, your belts fully equipped with bear spray and those camera memory cards ready for ACTION!
Best Places to See Animals in Glacier National Park
You may be wondering where are the best places to see wildlife? This is a hard question to answer. We are in their territory so they are roaming around at their will just like when we stroll around Target or Costco just to peruse. They may not have a shopping cart but they are always looking for snacks so we need to make sure we keep our distance and be prepared for what to do if we run into them during our adventures. Always smart to have bear spray, you can purchase prior if you are driving but if you are flying you can rent it during your vacation from a few places or pick one up at your nearest sporting goods store.
Wildlife Viewing Safety Practices 
Don't get too close to animals in Glacier National Park and keep your distance, binoculars are a good thing to pack or rent if needed. They can help you spot them from miles away! 

Make sure to leave your furry 4 legged friends at home…Glacier has enough wildlife so your pets will just have to sit this one out. If you are traveling with your pets, check out the Jewel Basin for adventuring as they do allow pets!

Want an In-depth Look at Glacier National Park Wildlife? Consider a Wildlife Tour!

Rather not run into a bear? Come explore the treetops at Glacier Highline! We are hangin' in the trees Mondays- Saturdays from 10am-6:30pm. Or maybe come hang with us and loosen up those sore muscles after the Highline trail searching for those wolverines. 
For more safety tips, visit the National Park Service's Wildlife Safety page.
---
Looking for your own fun in the trees? Glacier Highline is your family-friendly aerial adventure park near Glacier National Park.