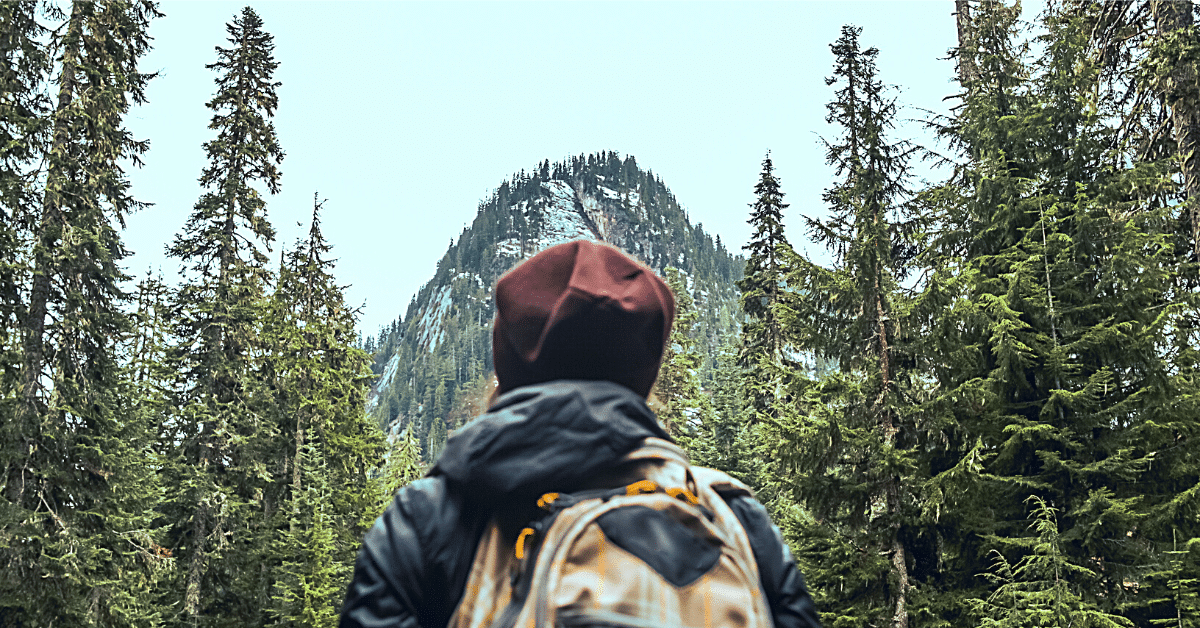 Top 5 Backpacking Trips in Glacier National Park
Backpacking trips in Glacier National park are not for the faint of heart! While beautiful it's also a bit challenging mentally and physically. Find answers to your top questions about backpacking in GNP and our most recommended routes.
Do you need a permit for backpacking trips in Glacier?/ How do I get a backpacking permit for Glacier National Park?
Permits are required when doing any sort of backpacking or any backcountry camping in Glacier. Permits are issued prior, day of or even day before the day of hike start date at multiple locations within Glacier. Glacier's website gives you all the information to obtain all you need to plan your backpacking trip in Glacier. 
How long does it take to backpack Glacier National Park?
This is a tricky question as there are over 700 miles of trails that the trail crew maintains within Glacier. This could be an all summer adventure or multiple return trips for years to come. One thing for sure, is you wont run out of trails for quite sometime while you are here.
Can you camp anywhere in Glacier National Park?
Camping is allowed only in designated campgrounds or wilderness camping within the guidelines of your permit obtained prior. There are 13 campgrounds in Glacier, some are first come first serve while the others are reservation campgrounds. These are reserved off recreation.gov and fill up fast so I wouldn't procrastinate! With your camping spot reservation, also includes your GTTS road ticket for the dates of your reservation!! If you are looking to do wilderness camping, those details of that will be explained with your permit.
Can you backpack Glacier National park in a weekend?
Backpacking in Glacier is a perfect way to spend a weekend, or even take an extra day or two and add some miles to the itinerary and make it a long, beautiful, scenic weekend you won't forget! Make sure when you're planning a backcountry trip you don't travel outside of your physical limits, pack all you will need while trying to keep your pack light. Essentials only- there are lots of great packing lists out there to help you make sure you have everything you need.
Top 5 Backpacking Trip Routes
Backpacking Trip1: Sperry Chalet- 12.3 mile strenuous hike (3360 ft elev gain)
Experience one of Glacier's famous Chalets, the Sperry Chalet. This historic chalet was built originally back in 1913 by the Great Northern Railway, the original structure was consumed by the Sprague Wildfire in 2017. The National Park Service was able to stabilize the remaining stone from the original structure and the Sperry Chalet was under construction shortly after the loss of the original chalet. They reopened the chalet in 2020 offering lodging for lucky guests each year and have a restaurant open to the public. The Sperry Chalet is only reachable by trail, if you aren't able to reserve a room at the chalet there are a few campgrounds nearby available for hikers. Again book ahead and reserve your spot. There is a nearby backcountry campground and also Lake Ellen Wilson campground just 3 miles up the road from Sperry Chalet.
The photos are breathtaking along this trail as you trek along on this 12.3 mile strenuous hike, with a total elevation gain of 3360'. This is an experience of a lifetime! Hike along red cedar, western larch, hemlock trees. Along the route you will pass a few junctions with Mt. Brown trail, Snyder Lake train. You will follow along Snyder Creek and also get to see first hand some of the damage from the Sprague Fire that consumed the original chalet. Once you reach Glacier Basin you will be nearing the chalet and you will have plenty of scenery to enjoy. From majestic mountain peaks, waterfalls and even wonderful views of Lake McDonald in the valley below. This backpacking trip will not disappoint.
Backpacking Trip 2: Granite Park Chalet– 15.2 mile strenuous hike (1920 ft elev gain) 
Glacier originally had 9 chalets, Granite Park being the last of 9 built, but over time it along with Sperry Chalet are the only chalets that remain. The amenities are much more basic at Granite Park vs Sperry Chalet but the views are just as good if not better. Start off by taking the famous Highline Trail which the trailhead is at Logan Pass, located off Going To The Sun Road. The 7.5 miles you will spend along the Highline trail are going to be breathtaking for many reasons. Be mindful there is a fairly narrow part of the trail with a steep drop off the edge but there is a hand cable for those who need it. Just be mindful if you are traveling with anyone who is afraid of heights.
You will see incredible views of the valley below, hike along the famous "Garden Wall" seeing wildflowers and other foliage for days and keep your eyes peeled for bighorn sheep and mountain goats along the way as well.  Haystack Pass is a great spot for lunch along the way! Keep your cameras ready but be mindful of other guests as this trail is one of the most traveled in Glacier.
Once you reach the Chalet there are plenty of places to hike from there if you would like. Some of those include Swift Current Lookout, Ahern Pass- if you are looking for miles without much elevation gain or Grinnell Glacier Overlook. There are lots of options from the Chalet. Granite Park Chalet is equipped with a  propane powered kitchen to whip up a warm meal, lodging here books up quickly so don't delay or plan for future!
Backpacking Trip 3: Pitamakan Pass/ Dawson Loop- 18 miles difficult hike (4400 ft elev gain) 
The Two Medicine area has lots of trail opportunities. One of the quieter trails due to its difficulty is the Pitamakan Pass/ Dawson Loop trail. The most difficult part is the elevation gain to make it to Pitamakan Pass. One of the rewards when you reach the saddle of Pitamakan Pass will be seeing Pitamakan Lake to the North and Oldman Lake to the south. You will also see some incredible views of Two Medicine Lake along with Mt Phillips and Mt. Stimpson.
Pitamakan Pass has an interesting tidbit of Blackfoot history, it is named after a fierce warrior who led many war parties and many successful raids. Pitamakan also holds such an influential part of the history for this area is that she was a woman, which it was not only unheard of to have a woman leading such raids and war parties but more impressively how successful she was within her tribe. Pitamakan name translates to Running Eagle, and this is where she experiences a vision quest and this is why this area is named in remembrance of her. Enjoy this trail and take your time to appreciate the dramatic views and to contemplate the history of the people who have inhabited the area before you.
Backpacking Trip 4: Cracker Lake- 12 miles intermediate/ difficult hike (2,760 ft elev gain)
Many Glacier should be on your Glacier to-do list while you are here but not only does it serve its purpose as a bucket list item, it also has lots of trailheads to explore. Cracker Lake is probably one of most popular trails that takes off from Many Glacier. This trail doesn't have any vertigo- inducing cliffs to endure but it does have an elevation gain of 2,760'. This out and back trail is well traveled by both hikers and horses so please be mindful when you are on the trail. Although this is definitely doable in 1 day you could also make this a baby backpacking trip to introduce yourself to the backcountry life that Glacier is well known for. If when you reach the lake it's cerulean blue waters don't take your breath away, maybe Mt. Siyeh will. It holds the titles for one of the tallest vertical cliffs in the continent-even the faces of Yosemite in California. This is a great trip to dip your toes into backpacking with, speaking of dipping…don't let the water fool you, it's COLD! 
Backpacking Trip 5: Gunsight Pass- 19 mile difficult hike (4,900 ft elev gain up- 6,350 ft elev loss down)
Glaciers, alpine lakes, craggy cliffs and waterfalls…OH MY! Just a few of many things you will see as you traverse the Gunsight Pass trail. This trail was originally created for horse concessionaires as Going To The Sun Road was being built. No rush on this trail as your destination is your journey so take your time and enjoy, there are multiple places to camp along this trail for you to enjoy the trip.
This is a point to point trail so you will need to plan for transportation at the other end. Starting from Jackson Glacier Overlook and ending up at the historic Lake McDonald Lodge. This trail will have you parallel with St. Mary River, you will really start to see the elevation gain once you pass the junction with Florence Falls and begin the climb to the shores of Gunsight Lake. The views from the shores of Emerald Gunsight Lake only improve as you move along. The suspended particles of rock from shifting glaciers have given Gunsight Lake the beautiful emerald color it is known for, this is known as "glacial flour". This is a great place to enjoy your lunch and take in the views.
As you continue on and come to the top of Gunsight pass you will start to see Lake Ellen Wilson, a great place to call it a day. Book ahead or if you plan to stay at Sperry Chalet book even earlier. From Sperry Chalet you will transcend into the valley below and eventually end up at the historic Lake McDonald Lodge. Again make sure you have some wheels waiting for you at the other end of this trek. Utilize the shuttle system or have a car there waiting.
Whether you're planning a day hike or a multi day backpack trip in Glacier National Park there are lots of aspects to remember and plan for. This can be stressful so it's smart to be well educated about the area you are hiking and make sure you have not outdone yourself with your pack or the terrain you have chosen to explore. Our friends at Montana Raft Glacier Guides are your go-to hiking experts and offer a VARIETY of day hikes, overnights, multi day trips, even super custom hikes! Their boots book up their miles fast so I would reach out and reserve your pack with them and let them do the planning. Their guides know the areas like the back of their hand and can shed some lights and history on the park and the surrounding areas onto you. 
A backpacking trip through Glacier National Park could be the highlight of your trip! If you still have energy left, or kiddos to entertain, consider a stop at Glacier Highline for some treetop playing before heading home. We are a great way to relieve some of those sore muscles after a few days of traveling the terrain of Glacier. Make sure to plan in a few family fun things to do at Glacier National Park!